SDN is the future which means we will have a career in it too in the near future. SDN engineers will be required and vacancies will be open too. The networking industry has very unique perspectives on SDN careers. Vendors will need to train the customers in accordance with the new technology. The companies have to decide now either they want their new employees to have SDN training or will hire new staff. A whole evaluation has to be done with completely new awareness.
The industry should think seriously about SDN.
Enterprises approach towards SDN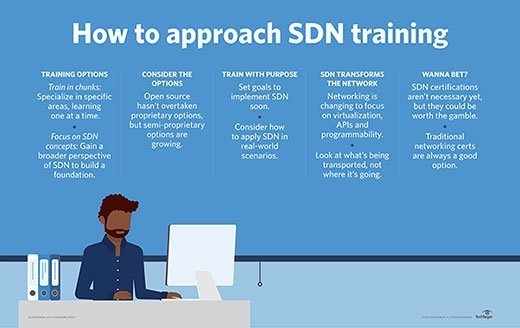 How to decide which employee is best for you? What are the right skills for the employee? Logically thinking it is much economical to train the existing employees rather than new hirings.
A proactive, top-down strategy is required for definitive training opportunities. It allows the teams to work together. Opportunities should be provided to instill confidence in the employees' abilities. The opportunities include:
Boot camps
Hackathons
Formal training
Certification.
It is a motivation for employees. It is the responsibility of IT professionals to train the employees and control their careers towards SDN in a professional way.
In this way, employees do their best for the companies they are working for and make intellectual moves in their skill sets.Good career stewards, for example, do their best work for their employers, while also actively making progress intellectually, careerwise and in skill sets.

But, do every employee need to be a programmer for understanding SDN skills? Actually not. The networking concepts are more than enough. To have a knowledge of software it is not always necessary that you should know how to code. Instead, the understanding of ecosystem is enough to get things done.

Any learning opportunity will really work wonders with the basic knowledge of the ecosystem especially in case of SDN. Just a plan has to be devised by the professionals and everything will be sorted.

So, existing employees can also set their career in SDN.

If you are an engineer and fear where to learn all these things about SDN then we have a piece of good news for you. Logic Finders can train such engineers who do not know to code but want to set their goals in SDN field. Get your hands on our SDN training courses. The details are in the link below:

https://www.logicfinder.net/sdn/